Elizabeth Howard will graduate in May 2022 from Hocking College with an Associate's Degree in Accounting and Financial Services. She is the first generation of her family to ever attend college and the first to earn a degree.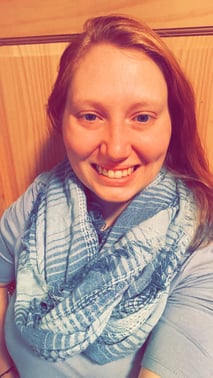 This will be Elizabeth's second degree from Hocking College. Her first was an Associate of Arts Degree which she obtained in the autumn semester of 2020. These degrees almost didn't happen, and they didn't come without challenges to overcome. However, with the help of Hocking College, her family, and a few special programs, she was able to receive the support she needed to be successful and is looking towards a bright future.
Elizabeth grew up in Guysville, Ohio, on her grandparent's farm and later moved to Albany, Ohio. She never thought about going to college because no one in her family had, so after high school, she started working in the fast-food industry. When she was 20, she started training to be an assistant manager at the same restaurant that she had started at years prior; but after that position went to someone else, Elizabeth decided she needed a change.
Elizabeth first enrolled in the Nursing Program at Hocking College. She wanted to follow in her mother's footsteps, who's an STNA, and also help people. A year into her program, she faced her first big challenge: Elizabeth discovered she was pregnant and almost dropped out of school. The stress of the nursing program, her pregnancy, and the financial struggles had her wanting to give up.
Her family offered to help if she agreed to stay in school and graduate. They were thrilled she was in college working towards a degree. Their ongoing encouragement kept her motivated to finish school. The understanding and support from her instructors and advisor at Hocking College were instrumental in her motivation as well. Elizabeth changed her first degree to an Associate of Arts, and while she was in that program, she discovered a passion for accounting.
The Hocking College Trio Program has also helped Elizabeth. The program is federal-funded and helps first-generation college students stay in school by giving them academic support, financial aid and counseling. Elizabeth has used many of the resources Trio offers to students like tutoring, training on the correct way to fill out financial aid forms and writing assistance. They were even able to provide her with a loaner laptop when hers broke, so she didn't fall behind with her online schoolwork.
Once she discovered a passion for accounting, she began to focus on a degree in Accounting & Financial Services. Elizabeth is already working in her field at The Septic Provider Inc, where she does payroll, taxes, record keeping and scheduling. While she loves the challenge of it, she also finds organizing finances relaxing, and she is looking forward to her continued future in that career field.
While at Hocking, she has been involved with Phi Theta Kappa Honor Society (PTK) and also the National Society of Leadership and Success (NSLS). Elizabeth says she has gained so much knowledge about her field from her instructors; they have provided real-life work scenarios and have been extremely helpful. She has also learned how to interview for jobs and even practiced these skills in class.
"There is so much that is offered at Hocking College. Without the help from Trio, instructors, and family, I would not be where I am today. I am the first in my family to graduate from college, and I have everyone to thank for that. I just want folks to know, it is never too late to change your path. Everyone has potential, just have to find your groove and what best fits you, and I am sure the instructors will help guide you to your goals and dreams."
To learn more about Hocking College and the programs offered contact the admissions office at 740-753-7050 and admissions@hocking.edu.