Hocking College's programs are all focused on real world, hands-on experience. The same can be said for Hocking College's Wildlife Club. The Wildlife Club provides many opportunities for students in the Natural Resources program to gain invaluable experience, network with professionals, and uncover the commonly asked question: What does a wildlife professional do?
While the coursework and hands-on labs at Hocking College can get your feet wet to these experiences, active participation in the Wildlife Club gives students more exposure to real world situations, which ultimately gives them an advantage when they graduate and apply for jobs.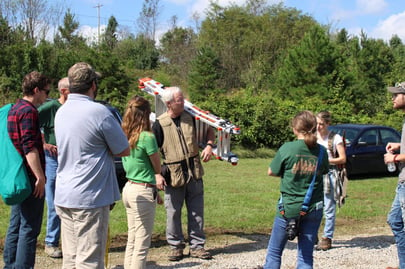 What Does A Wildlife Technician Do?
A degree in wildlife resources management can lead to a variety of rewarding careers, but they all focus on one central aspect: conservation of wild populations of animals. Contributions to this goal can focus on the following:
Public outreach and education
Habitat management
Species recovery
Harvest management
Research
The Wildlife Club focuses on the research aspect of wildlife management by being involved with southern flying squirrels.
What Are Southern Flying Squirrels?
Southern flying squirrels are the most carnivorous of squirrels, eating not only acorns and other nuts, but also insects, birds, eggs and carrion. They're an important part of the food chain and are a prey species for owls, hawks, weasels and coyotes. Flying squirrels, which are nocturnal, sleep and rear their young in tree cavities or man-made nest boxes. They don't hibernate, but rather group together in cavities to stay warm in the winter.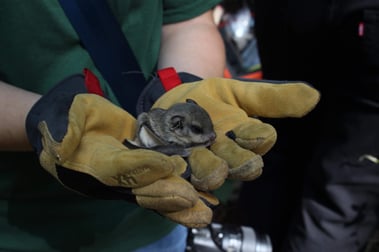 Despite their name, flying squirrels are gliders and cannot actually fly. Bats, however, are the only true flying mammals.
Unlike other squirrel species in Ohio, flying squirrels are not harvested in Ohio and are just as numerous as gray squirrels in the forested regions of Ohio.
What Skills Will Students Learn in Hocking College's Wildlife Resources Management Program?
The Wildlife Resources Management program at Hocking College is a hands-on, experience-based curriculum, which can be completed in only four semesters. Students will learn skills in wildlife, fish and plant field and lab identification; wildlife field data collection techniques such as survey, capture, radio telemetry, habitat and population sampling; and other general field skills such as map reading, watercraft operation, and natural resources equipment operation.
Where Can Hocking College Students Further Their Education as a Wildlife Technician?
University of Rio Grande's Wildlife Ecology program has close ties with Hocking College. In fact, Rio Grande Wildlife Professor, Don Althoff, graciously offers opportunities for Hocking College students to assist him with research on southern flying squirrels. Through research, Althoff can determine population fluctuations, survivorship, reproductive success, and the health of these adorable squirrels. Students learn the proper techniques for capturing, handling, aging, sexing, and measuring flying squirrels through this experience.
Students aspiring to become a wildlife biologist will need to continue their education, which can be done by transitioning into Rio Grande's bachelor's program after completing their associate degree at Hocking College. A formal agreement exists with Rio Grande and many Hocking students have successfully reached their goal of becoming a wildlife biologist through this 2+2 program.
---
For more information about Hocking College's Wildlife Resources Management program or the 2+2 program, contact Lynn Holtzman, by email at holtzmanl@hocking.edu or call (740) 753-6274.