With Christmas only weeks away, it's time to start your holiday shopping if you haven't already. Many Americans plan their shopping around two major retail events, Black Friday and Cyber Monday. Black Friday, which is held on the Friday after Thanksgiving, is when retailers will have major in-store discounts. On the other hand, Cyber Monday is the Monday after Thanksgiving and is when retailers have major discounts online.
However, there is a third retail event that falls between Black Friday and Cyber Monday, which is Small Business Saturday. Small Business Saturday, which falls on the Saturday after Thanksgiving, is a day dedicated to supporting small businesses and communities across the country.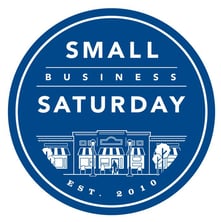 Why Should I Shop Locally?
Consumers are a key part in helping a small business thrive. By shopping or dining at small businesses throughout the year, you're showing your support for your neighborhood and community. Small Business Saturday is a day when you dedicate shopping and eating locally in order to help those businesses and entrepreneurs.
---
Want to learn more about running your own small business?
Check out our Business Management & Entrepreneurship program.
---
How Can I Support Small Business Saturday?
You can support Small Business Saturday by simply shopping at a local retailer or restaurant in your community. Below is a list of local places you can shop or eat at for Small Business Saturday in Nelsonville and Athens.
Nelsonville, Ohio
FullBrooks Cafe — 6 ½ Public Square
FullBrooks Cafe has fair trade organic coffee and espresso drinks, as well as freshly baked goods. Many of their products are

locally sourced, including their coffees and teas. Their soups are homemade and their bread is baked fresh every day for a taste customers won't forget.
Nelsonville Emporium — 31 Public Square
The Nelsonville Emporium has over 80 local artists and craftsmen artwork for sale, as well as local jewelry, paintings, soaps, glass works, pottery, yard art and more. They also feature

a fresh lunch menu which includes soups, salads, pretzels, sandwiches, and wraps.



Paper Circle — 35 W Columbus Street
Paper Circle is a non-profit paper, print, and book arts organization located on the historic, starbrick-lined square of Nelsonville. They house a gallery with 12 professional exhibitions a year, as well as a shop where they sell an assortment of handmade papers and other objects of art.
Rhapsody Music & Dining — 18 Public Square
Rhapsody Music & Dining is a casual fine dining restaurant on the public square in Nelsonville. It features local Appalachian cuisine and uses

locally fresh ingredients like vine ripe tomatoes, garden grown basil, local Amish cheese, and house made cheese spreads.

Rhapsody is ran by Certified Master Chef Alfonso Constrisciani, as well as

Hospitality & Culinary students from Hocking College

.
Stuart's Opera House — 52 Public Square
Stuart's Opera House is a center for public expression and an economic development partner for Southeastern Ohio. It's

home to local, regional, national, and internationally acclaimed performances, and hosts over 75 events each year.
Athens, Ohi

o
Casa Nueva — 4 W. State Street
Casa Nueva is a worker-owned, local restaurant

that provides local, sustainable, Mexican-inspired food for the community. They not only serve local food, but also local drinks, art, and music from Appalachian Ohio.
Donkey Coffee — 17 1/2 W. Washington Street


Donkey Coffee offers

Fair Trade coffee, as well as tasty treats baked in-house.

They also offer

locally made corn chips and granola bars,

as well as select salads made with local ingredients.
Jackie O's Pub & Brewery — 24 W. Union Street (Brewpub)
Jackie O's produces beer and food that celebrates the vast agricultural resources available in Athens. They've been growing their own resources at

Barrel Ridge Farm

, a 20+ acre produce farm in Lodi Township. Four greenhouses and an array of diverse vegetable, herb, and flower patches throughout the farm supplement Jackie O's production brews and food served at their locations.
OMG! Rotisserie — 139 Columbus Road


OMG! Rotisserie

is a restaurant that offers

rotisserie chicken and soul food sides made from scratch with fresh local ingredients. The

y believe in delicious comfort foods and stimulating the local food economy by purchasing ingredients right here in Southeast Ohio.