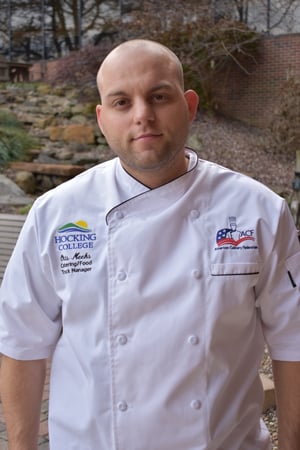 Otis Meeks is Hocking College's new Catering & Food Truck Manager.
Born in West Virginia and raised in Cleveland, Ohio, Meeks was studying computer science and engineering at Ohio University, however, the closer he got to graduation the more disenchanted he became with his career choice.
In 2012 during his senior year, Meeks decided to pursue his passion for cooking and enroll in Hocking College's Culinary Arts program.
At first, Meeks admits he didn't know what to expect, but Meeks credits the ease of his transition to his advisor, Chef Clarence E. Steadman.
Meeks notes that Steadman along with his other instructors all became "great mentors" who helped him graduate in 2015 with two Associate of Applied Business degrees in both Baking and Culinary Arts.
In addition to his culinary prowess, Meeks has also been an active member of the National Guard since 2009.
After graduation, Meeks accepted an internship at Catawba Island Club located in Port Clinton, Ohio. When the internship was over he began working at the club for the next 3 years.
Meeks then traveled to Hilton Head Island, South Carolina. There he worked for the Hilton Head Social Bakery until his desire to be closer to his family and friends brought him back to Southeast Ohio. Soon thereafter, he was hired by his alma mater.
Meeks explained that going from student to instructor was "a little strange at first." He added that his admiration for Hocking College and the surrounding area helped ease his transition.
As for his future plans, Meeks wants to focus his attentions on making the food truck a success and pursuing his American Culinary Federation Certificate.
According Culinary & Hospitality Program Manager, Susanna Krutsch, the Hocking College food truck could be fully operational as early as Spring 2020.