Do you enjoy planning and implementing outdoor projects? Do you pay attention to detail and can easily solve problems that suddenly pop up? If so, then you might have the right skills to becoming a carpenter.
What Kind of Educational Background Do I Need?
Typically, having a high school diploma or the equivalent is a requirement to work in the carpentry trade. Students should take classes in mathematics, wood shop, mechanical drawing, and have general vocational technical training.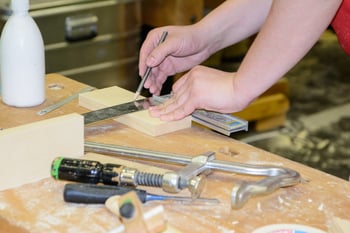 What Kind of Work
Experience Do I Need?
Carpenters learn their trade by attending apprenticeship classes and on-the-job training. During their apprenticeship, carpenters work alongside other journeymen and perform tasks that prepare them to become seasoned carpenters.
Are There Opportunities for Advancement?
Carpenters are involved in every phase of a construction project and may have the opportunity to advance to one of the following positions:
Journeymen
Foreman
Superintendent
Independent contractor
Estimator
Project Manger
What Additional Skills or Qualities Do I Need?
Aside from the technical skills you'll learn in an apprenticeship, those interested in entering the carpentry field may also need the following:
Business skills. Self-employed carpenters must bid on new jobs, track inventory, and plan work assignments.
Attention to detail. Carpenters need to be able to make precise cuts, measurements, and modifications.
Dexterity. Carpenters need hand-eye coordination to avoid injuring themselves or damaging equipment or materials on a job site.
Problem-solving skills. Carpenters need to know how to modify building materials and make adjustments to different types of onsite projects.
Physical strength. Carpenters must be able to lift heavy tools and materials that can weigh up to 100 pounds.
Where Can I Get a Degree in Carpentry?
Hocking College in Nelsonville, OH offers an Associate of Technical Study in Construction Management: Carpentry. In addition, this Associate of Technical Study degree program has a partnership with the Ohio Carpenters' Joint Apprenticeship and Training Program to begin offering a pre-apprenticeship program. This partnership will incorporate Hocking College's existing Carpentry Program with the Apprenticeship's training cycle.
What Kind of Training Will I Receive at Hocking College?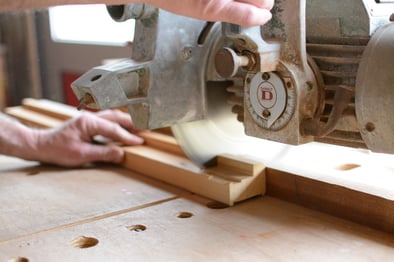 Students in the Carpentry Program will learn how to properly use hand and power tools through on-the-job training and apprenticeships, as well as measure and cut wood, read blueprints, and operate forklifts & scissor lifts. They'll learn how to uphold code requirements, utilize safety & first aid practices, and be required to pass the Occupational Safety and Health Administration (OSHA) 30-hour safety course. Finally, students will learn basic wood framing methods, interior and exterior finishes, concrete forming, placing and finishing, and non-structural steel framing.
Where Can I Get More Information About This Program?
For more information on this degree program, contact Program Manager Adam Fowler by email by at fowlera18289@hocking.edu or by phone at (740) 753-6357.