If you're interested in becoming a professional welder, then applying for one of the American Welding Society (AWS) Training Scholarships should spark your interest.
The purpose of these AWS Training Scholarships is to help students who are seeking to enroll in a program of up to two years through a trade school, community college, or other facility to learn how to weld.
In addition, these scholarships cannot be used for credits towards a four-year program and each AWS District has 25 $1,000 scholarships to award in 2019. Five of those scholarships will be designated for high school seniors for training following their graduation.
What is the American Welding Society (AWS)?
The mission of the AWS is to advance the science, technology, and application of welding and allied joining and cutting processes on a worldwide scale.
In addition, AWS provides leading-edge industry knowledge, certification options, resources, professional collaborations, training and tools the welding industry needs to achieve and maintain continued success.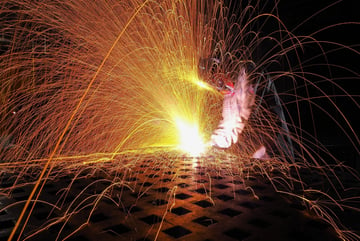 How Can I Find Out if I'm Eligible For An AWS Scholarship?
The AWS Training Scholarship is for students seeking welder training in a program of up to two years. The current application cycle is open to students attending school or training prior to May 2020. In order to be eligible, applicants must also meet the following criteria:
Reside within the boundaries of an AWS District
Planning to attend a trade school, community college, or other facility providing welder training
In addition, awards will not be made to section officers and committee members or their families.
How Does the Application Process Work?
Those interested in applying can do so by following the below steps:
Visit the Welder Training Scholarship webpage.
Login or create an account with your email & password.
Complete your applicant profile.
Click Get Started and fill out all the necessary information such as your contact information, the school or training facility information, personal statement, and the optional letter of reference (Note: Be sure to save as you progress through the application in case you can't finish it.)
Once you're finished, submit your application. (Note: Applicants should be aware that PDF or mailed in applications are no longer accepted.)
Those who submit their application prior to November 30 will be eligible for any funds remaining in that calendar year. Those who apply after November 30 will be considered in the following calendar year.

How is the Selection Process?
Applications for the AWS Training Scholarship may be submitted year-round and applicants will be selected on a rolling basis until each district awards the designated funds for that year.
How Will These Awards Be Distributed?
Awards given are for tuition and fees only, and will be paid directly to the academic institution by the AWS Foundation. Scholarship recipients must provide verification of enrollment prior to disbursement of award.
Are There Any Local Schools That Offer Training in Welding?
Since summer 2018, Hocking College has been offering an advanced Welding Certification Program at their campus in Logan, OH. This 16-week course will provide students with beginner-to-advanced training in welding, along with chances to qualify for some additional certifications.
For more information on Hocking College's Welding Program, contact Sean Terrell by email at terrells@hocking.edu or by phone at (740) 753-7149.