The Governor's Office of Workforce Transformation recently updated Ohio's Top Job list for 2022. Included are both in-demand and critical jobs for Ohio.
Many of the career paths available through Hocking College made this list. In-demand jobs are those positions where the wage is $14.90 or more, the annual growth rate is above the states, and has openings annually over 620. The most critical jobs are those career fields that support the health and prosperity of all Ohioans. These include Early Childhood Education, Children and Community Health, First Responders, Nurses and Construction.
What is the Top Job List?
The Top Jobs list is a user-friendly interactive tool that allows people to investigate different career paths depending on their interests. The list has occupational titles, job families, education level, on-the-job training, relevant work experience, starting wage, median wages, annual openings and annual growth.
At Hocking College, we're aware of career trends and continually prepare our students to enter the job market with the skills needed to secure a Top Job.
Programs at Hocking College Fill Critical Jobs.
Early Childhood Educators and Childcare Professionals
The Early Childhood Teacher Education Program prepares students to work as lead teachers in Early Care and Education Programs like Ohio University Child Development Center, Stages Early Learning Center, and Blooming View Montessori Academy, to name a few. Or as paraprofessionals at public school districts like Logan-Hocking School District, Alexander School District, Etc.
Children and Community Health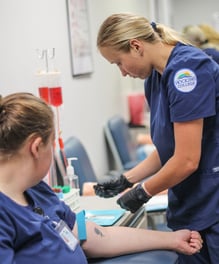 Hocking College's School of Allied Health and Nursing covers critical positions in Children and Community Health. These programs prepare students for careers in Dental Hygiene, Registered Nursing, Massage Therapy, Physical Therapist Assisting, Medical Assisting, Healthcare Informatics, and Laboratory Sciences. Most of these fields are considered both in-demand and critical in the state of Ohio.
First Responders
The School of Public Safety covers critical positions for First Responders. These programs prepare students for EMT/Paramedic Certification, Fire and Emergency Medical Services, Firefighter Certification, and Ohio Peace Officer Basic Certification. Graduates can work at municipal fire departments, governmental and privately-owned emergency services, industrial fire, health, or emergency services.
Construction
The School of Workforce Development covers programs in Construction Management: Carpentry and Construction Management: Commercial and Residential Electricity. Students who graduate from these programs are employed as construction estimators, sales managers, purchasing managers, independent contractors, crew foremen, carpenters, and electricians.
---
Visit https://www.hocking.edu/majors to learn more about all of the available majors and certificates at Hocking College and begin your journey to a Top Job today!